Sun
Sun activity: Possible CME sideswipe weekend of March 18
March 19, 2022
Looking for the current page on sun activity? Click here.
Sun activity: More coming, maybe
Another CME impact might be on its way. The second CME this week isn't from a solar flare, as many CMEs are; it's from a filament eruption that happened on March 16. Solar filaments are long ropes of solar material held down by magnetic fields. They're the same pink-red structures you see around a darkened moon during total solar eclipses. In this case, the magnetic fields shifted in such a way that the filament detached from the sun, sending a CME our way.
NASA and NOAA models for the March 16 CME's arrival time vary a little, but together they give an expected arrival of between March 18 and March 20.
This weekend's CME will probably just sideswipe us; but this CME sideswipe could disturb Earth's magnetic field enough to produce a minor geomagnetic storm (G1-class) and that would mean more auroras!
CME WATCH: Lots of action over the last two days off both the east and west limbs, see if you can see them all. pic.twitter.com/ki2LLMNQ9O

— Keith Strong (@drkstrong) March 19, 2022
Gorgeous #solarstorm launches are getting more common! This one might be partly Earth-directed! Early NASA model runs are indicating it could graze Earth late on March 19 or early March 20. Waiting for more coronagraph observations to refine predictions1 pic.twitter.com/UwGGw43IFd

— Dr. Tamitha Skov (@TamithaSkov) March 16, 2022
NOAA's model
The NOAA Space Weather Prediction Center model has a CME arrival of March 18.
NASA's model
NASA has a CME arrival of March 20. Both models have a time range of plus or minus 7 hours.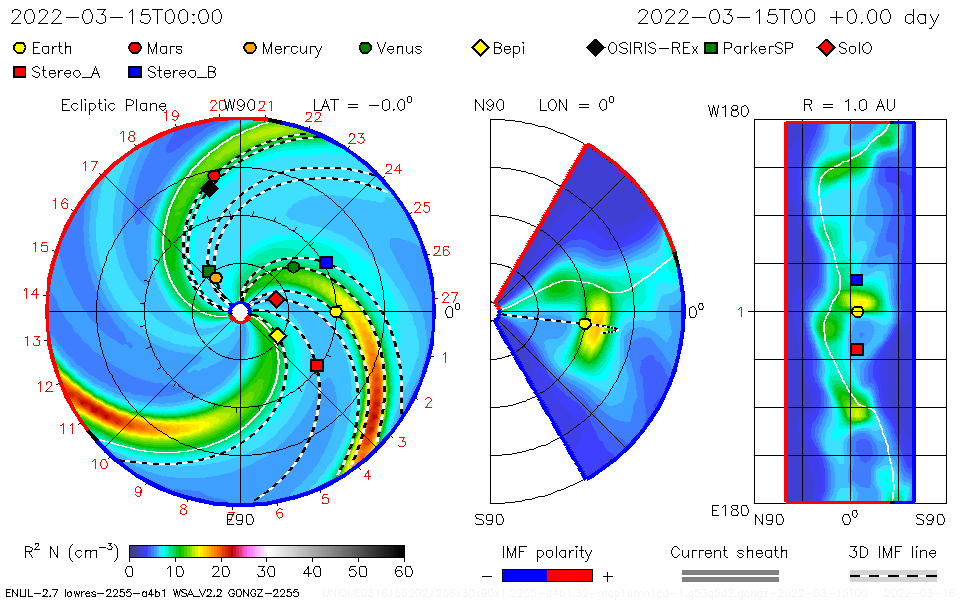 AR2965 is rotating out of view
The large sunspot region AR2965 gave us some exciting activity last week, including an Earth-directed CME and several M-class solar flares. It is still visible on the sun, but the sun's rotation has almost carried it out of our view.
HUGE SUNSPOT REGION: AR2965 has grown to a size of 600 millionths (of the surface of the Sun). It includes several spots as big as, if not larger than the Earth. It contains about 70 individual spots spread over a distance of about 140,000 km. We can expect to see larger regions. pic.twitter.com/Ld3wJ5YMp6

— Keith Strong (@drkstrong) March 14, 2022
Notable solar activity seems to avoid AR 12965, for which some still seem to hold big hope. This movie shows a nice eruption from a smaller region AR 12967. It also kicked another filament to erupt on the northeast (upper left) limb. This eruption may not be Earth-bound. pic.twitter.com/opXIYWRugM

— Halo CME (@halocme) March 16, 2022
Happy people, gorgeous auroras
Standing on the beach… #auroraborealis #Iceland pic.twitter.com/HYsVyUZAq0

— Sophie Carr (@SophieCarrPhoto) March 15, 2022
Gorgeous auroras, happy people last night! ? pic.twitter.com/KLcJ1IBw2x

— Night Lights (@NightLights_AM) March 12, 2022
How auroras are created
This is how an Auroras created pic.twitter.com/M1DfirCQCb

— Physics & Astronomy Zone (@zone_astronomy) March 16, 2022
Bottom line: Sun activity for March 18, 2022. A CME from the sun might deliver a glancing blow to our planet the weekend of March 18 to March 20. Stay tuned!
Posted 
March 19, 2022
 in 
Sun
Like what you read?
Subscribe and receive daily news delivered to your inbox.
Thank you! Your submission has been received!
Oops! Something went wrong while submitting the form.