Tropical Storm Bill, the second named storm of the 2015 Atlantic hurricane season, made landfall along the Texas coast on Matagorda Island – between Houston and Corpus Christi – on Tuesday at 11:45 a.m. CDT (1645 UTC). Top speeds for sustained winds was 60 mph (100 kph). Bill has now been downgraded to a tropical depression, and at this writing – Wednesday morning, 6 a.m. CDT (11 UTC) – it is moving into the Dallas-Fort Worth area. Its biggest likely impact still lies in the heavy rain and flooding potential. Flash flooding was expected in several spots across Texas Tuesday, and the threat is now spreading northwards into Oklahoma, Arkansas, Missouri and Illinois for Wednesday, June 17, 2015.
#Bill is moving into DFW. #TropicalStormBill #TSBill pic.twitter.com/HP9Qx0FZdF

— Weather News 225 DFW (@Weather225DFW) June 17, 2015
The peak storm surge from Bill took place Tuesday morning and early Tuesday afternoon along the Upper Texas and southwest Louisiana coasts. It coincided with an early morning high tide.
By 8 p.m. CDT on Tuesday in Bay City, Texas, more than 6 inches of rain had fallen, according to a Lower Colorado River Authority rain gauge.
Early Wednesday morning, the storm passed about 40 miles east of Austin and moving north at about 13 mph, according to the National Hurricane Center. That part of central Texas – which is still recovering from Memorial Day weekend floods that left 14 dead and two missing along the Blanco River – was somewhat spared from heavy rains after Bill took a last-minute turn overnight that put much of Central Texas on the drier west side of the storm.
In North Texas, Dallas authorities were monitoring road conditions and Arlington residents were picking up sandbags being offered for free by city officials.
Flood threat now extends into Oklahoma, Missouri, Illinois, and into West Virginia over the next several days as the moisture pushes around an area of high pressure located in the U.S. Southeast. Nearly 45 million people are in line for a flood threat this week, and flood watches are posted from Texas to southern Illinois as Bill moves northward.
Tropical Storm #Bill capture by @StationCDRKelly aboard @Space_Station: https://t.co/hkWV6Zzh9P #YearInSpace #TSBill pic.twitter.com/ZbH8N6V4de

— NASA (@NASA) June 16, 2015
Bill downgraded to a tropical depression. Heavy rain continues to fall, up to 200 mm possible. https://t.co/fEw5Xqp0xs pic.twitter.com/Ka2SHYeMap

— The Weather Network (@weathernetwork) June 17, 2015
Texas and Oklahoma experienced their all-time wettest month on record last month ("all-time" considers all months, not just May). With saturated soils, any additional rain will easily result in flash flooding across Texas and Oklahoma. The Weather Prediction Center (WPC) is forecasting rainfall totals of 3 to 6 inches (8 to 15 cm) with isolated spots possibly picking up over 8 inches (20 cm). Some models estimated nearly a foot of rain (.3 meters) in some spots.
Some of the models indicate that Bill will push over land and actually maintain strength or possibly intensify due to what could be the brown ocean effect. The basic idea is that the ground is so wet that it acts as a warm ocean. Warm waters are what strengthen tropical cyclones. With saturated soils, the storm could strengthen as the ground acts as an energy source as latent heat is released into the atmosphere. A situation developed in central Oklahoma when Tropical Storm Erin (2007) intensified and formed an eye-like feature on radar due to saturated soils from a very wet July 2007.
For more information on the "brown ocean effect," please read my story that is featured on iWeathernet.com.
You can see that one of our models (NAM 4KM) shows the storm holding together as it pushes northwards towards Dallas, Texas and eastern Oklahoma. Heavy rain remains the big threat, but gusty winds and isolated tornadoes could still exist.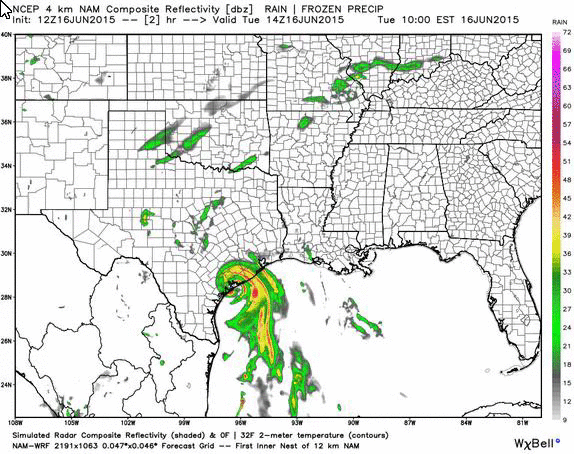 I can't stress enough that you should always avoid driving into flooded areas. You never know the actual depth of the water, and you have no idea if the road is actually washed out from under the flood waters. Turn around, don't drown.
If you live in a flood-prone area, it might be best to move to a location with higher elevation until the storm passes and water levels drop.
Another hazard with this storm has been the chance for isolated tornadoes. The tornado threat was likely for eastern Texas, extending northward into northeast Texas, on Tuesday and extends and into Wednesday.
The storm surge from #TropicalStormBill has gone over the flood wall in Galveston. Photo by vacationer @David9683 pic.twitter.com/uYzvBhHutl

— CNN iReport (@cnnireport) June 16, 2015
Looks like the water's reached Stingaree's lower bar – Bolivar residents say water's rising fast #TropicalStormBill pic.twitter.com/eT5aWRwIDY

— Beth Rankin (@BeaumontBeth) June 16, 2015
Bottom line: Tropical Storm Bill is producing heavy rain, and possibly flash flooding, as it pushes to the north across Texas and Oklahoma on June 17, 2015. There is a small chance that the storm could intensify or maintain strength as it pushes through Dallas, Texas and Oklahoma due to the brown ocean effect.
Matt Daniel is Meteorologist for WBRC in Birmingham, Alabama. A self-described "big weather and music geek," Matt has a passion for helping to keep people safe when severe weather strikes and says if you don't have a NOAA Weather Radio ... you should get one.